Posts for tag: gum recession
By Hockaday & Baucom, DDS
December 25, 2019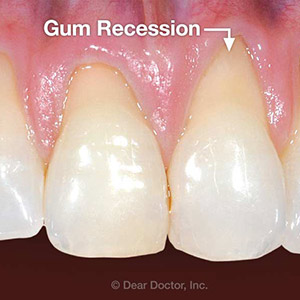 Your gums play an important role in dental function and health. Not only do they help anchor teeth in the jaw, the gums also protect tooth roots from disease.
But you can lose that protective covering if your gums recede or shrink back from the teeth. An exposed tooth is more susceptible to decay, and more sensitive to temperature and pressure.
Here are 4 causes for gum recession and what you can do about them.
Gum disease. The most common cause for gum recession is a bacterial infection called periodontal (gum) disease that most often arises from plaque, a thin film of bacteria and food particles accumulating on teeth. Gum disease in turn weakens the gums causes them to recede. You can reduce your risk for a gum infection through daily brushing and flossing to remove disease-causing plaque.
Genetics. The thickness of your gum tissues is a genetic trait you inherit from your parents. People born with thinner gums tend to be more susceptible to recession through toothbrush abrasion, wear or injury. If you have thinner tissues, you'll need to be diligent about oral hygiene and dental visits, and pay close attention to your gum health.
Tooth eruption. Teeth normally erupt from the center of a bony housing that protects the root. If a tooth erupts or moves outside of this housing, it can expose the root and cause little to no gum tissue around the tooth. Moving the tooth orthodontically to its proper position could help thicken gum tissue and make them more resistant to recession.
Aggressive hygiene. While hard scrubbing may work with other cleaning activities, it's the wrong approach for cleaning teeth. Too much force applied while brushing can eventually result in gum damage that leads to recession and tooth wear. So, "Easy does it": Let the gentle, mechanical action of the toothbrush bristles and toothpaste abrasives do the work of plaque removal.
While we can often repair gum recession through gum disease treatment or grafting surgery, it's much better to prevent it from happening. So, be sure you practice daily brushing and flossing with the proper technique to remove disease-causing plaque. And see your dentist regularly for cleanings and checkups to make sure your gums stay healthy.
If you would like more information on proper gum care, please contact us or schedule an appointment for a consultation. You can also learn more about this topic by reading the Dear Doctor magazine article "Gum Recession."
By Hockaday & Baucom, DDS
July 03, 2018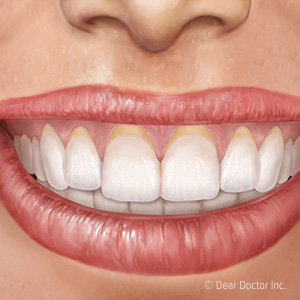 While gum recession is a common occurrence related to aging, it's not just an "old person's disease." It can happen to anyone, even someone with a relatively healthy mouth. And this detachment and shrinking back of the gums from the teeth may not be a minor problem—your dental health is definitely at risk.
Here then are 4 things you should know about gum recession, and what you can do about it.
The most common cause: periodontal (gum) disease. A bacterial infection triggered by built-up dental plaque, gum disease weakens the gums' attachment to teeth that leads to recession. To help prevent it, clean away plaque with daily brushing and flossing and visit a dentist regularly for more thorough plaque removal. If you already have gum disease, prompt treatment could stop the infection and reduce any resulting damage including recession.
…But not the only one. There are other factors that contribute to recession besides disease. In fact, it could be the result of "too much of a good thing"—brushing too hard and too frequently can damage the gums and lead to recession. You might also be more susceptible to recession if you've inherited thin gum tissues from your parents. Thin gums are at increased risk of recession from both disease and over-aggressive hygiene.
Best outcomes result from treating gum disease and/or recession early. The earlier we detect and treat a gum problem, the better the outcome. See your dentist as soon as possible if you see abnormalities like swollen or bleeding gums or teeth that appear larger than before. Depending on your condition there are a number of treatment options like plaque removal or techniques to protect exposed teeth and improve appearance.
Grafting surgery could regenerate lost gum tissue. While with mild cases of gum recession the gums may respond well to treatment and actually rejuvenate on their own, that might not be possible with advanced recession. We may, however, still be able to restore lost tissue through grafting. Using one of a number of techniques, a graft of donor tissue can foster new replacement growth. It's a meticulous micro-surgical approach, but it could be a viable answer to extreme gum recession.
If you would like more information on gum recession, please contact us or schedule an appointment for a consultation. You can also learn more about this topic by reading the Dear Doctor magazine article "Gum Recession."
By Hockaday & Baucom, DDS
May 24, 2018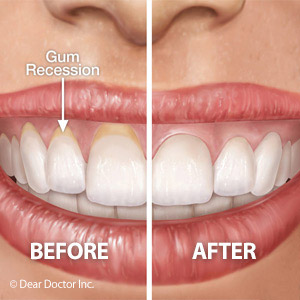 Your gums not only help hold your teeth securely in place, they also help protect them. They're also part of your smile — when healthy and proportionally sized, they provide a beautiful frame for your teeth.
But if they become weakened by periodontal (gum) disease, they can detach and begin to shrink back or recede from the teeth. Not only will your smile be less attractive, but you could eventually lose teeth and some of the underlying bone.
Treating gum recession begins with treating the gum disease that caused it. The primary goal is to remove the source of the disease, a thin film of food particles and bacteria called dental plaque, from all tooth and gum surfaces. This may take several sessions, but eventually the infected gums should begin showing signs of health.
If the recession has been severe, however, we may have to assist their healing by grafting donor tissue to the recession site. Not only does this provide cover for exposed tooth surfaces, it also provides a "scaffold" for new tissue growth to build upon.
There are two basic surgical approaches to gum tissue grafting. One is called free gingival grafting in which we first completely remove a thin layer of surface skin from the mouth palate or a similar site with tissue similar to the gums. We then attach the removed skin to the recession site where it and the donor site will usually heal in a predictable manner.
The other approach is called connective tissue grafting and is often necessary when there's extensive root exposure. The tissue is usually taken from below the surface of the patient's own palate and then attached to the recession site where it's covered by the surrounding adjacent tissue. Called a pedicle or flap, this covering of tissue provides a blood supply that will continue to nourish the graft.
Both of these techniques, but especially the latter, require extensive training and micro-surgical experience. The end result is nothing less than stunning — the tissues further rejuvenate and re-attach to the teeth. The teeth regain their protection and health — and you'll regain your beautiful smile.
If you would like more information on treating gum recession, please contact us or schedule an appointment for a consultation. You can also learn more about this topic by reading the Dear Doctor magazine article "Periodontal Plastic Surgery."