Posts for: September, 2015
By Hockaday & Baucom, DDS
September 22, 2015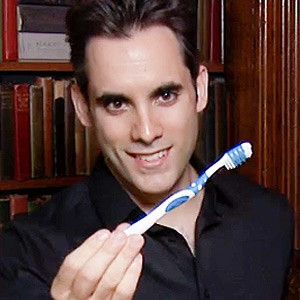 Magician Michel Grandinetti can levitate a 500-pound motorcycle, melt into a 7-foot-tall wall of solid steel, and make borrowed rings vanish and reappear baked inside bread. Yet the master illusionist admits to being in awe of the magic that dentists perform when it comes to transforming smiles. In fact, he told an interviewer that it's "way more important magic than walking through a steel wall because you're affecting people's health… people's confidence, and you're really allowing people to… feel good about themselves."
Michael speaks from experience. As a teenager, his own smile was enhanced through orthodontic treatment. Considering the career path he chose for himself — performing for multitudes both live and on TV — he calls wearing an orthodontic device (braces) to align his crooked teeth "life-changing." He relies on his welcoming, slightly mischievous smile to welcome audiences and make the initial human connection.
A beautiful smile is definitely an asset regardless of whether you're performing for thousands, passing another individual on a sidewalk or even, research suggests, interviewing for a job. Like Michael, however, some of us need a little help creating ours. If something about your teeth or gums is making you self-conscious and preventing you from smiling as broadly as you could be, we have plenty of solutions up our sleeve. Some of the most popular include:
Tooth Whitening. Professional whitening in the dental office achieves faster results than doing it yourself at home, but either approach can noticeably brighten your smile.
Bonding. A tooth-colored composite resin can be bonded to a tooth to replace missing tooth structure, such a chip.
Veneers. This is a hard, thin shell of tooth-colored material bonded to the front surface of a tooth to change its color, shape, size and/or length; mask dental imperfections like stains, cracks, or chips, and compensating for excessive gum tissue.
Crowns. Sometimes too much of a tooth is lost due to decay or trauma to support a veneer. Instead, capping it with a natural-looking porcelain crown can achieve the same types of improvements. A crown covers the entire tooth replacing more of its natural structure than a veneer does.
If you would like more information about ways in which you can transform your smile, please contact us or schedule an appointment for a consultation. You can also learn more about the techniques mentioned above by reading the Dear Doctor magazine articles "Teeth Whitening," "Repairing Chipped Teeth," and "Porcelain Crowns & Veneers."
By Hockaday & Baucom, DDS
September 07, 2015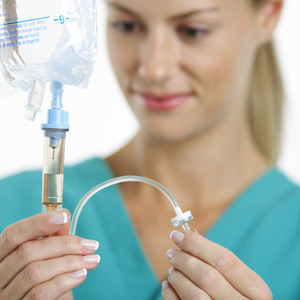 Did you know 50% of people admit to some form of anxiety visiting the dentist, with roughly 1 in 6 avoiding dental care altogether because of it? To ease anxiety dentistry has developed sedation methods that help patients relax during dental treatment.
Many can achieve relaxation with an oral sedative taken about an hour before a visit. Some with acute anxiety, though, may need deeper sedation through an intravenous (IV) injection of medication. Unlike general anesthesia which achieves complete unconsciousness to block pain, IV sedation reduces consciousness to a controllable level. Patients aren't so much "asleep" as in a "semi-awake" state that's safe and effective for reducing anxiety.
While there are a variety of IV medications, the most popular for dental offices are the benzodiazepines, most often Midazolam (Versed). Benzodiazepines act quickly and wear off faster than similar drugs, and have a good amnesic effect (you won't recall details while under its influence). While relatively safe, they shouldn't be used with individuals with poor liver function because of their adverse interaction with liver enzymes.
Other drugs or substances are often used in conjunction with IV sedation. Nitrous oxide ("laughing gas") may be introduced initially to help with anxiety over the IV needle stick. Sometimes pain-reducing drugs like Fentanyl may be added to the IV solution to boost the sedative effect and to reduce the amount of the main drug.
If we recommend IV sedation for your dental treatment, there are some things you should do to help the procedure go smoothly and safely. Because the after effects of sedation may impair your driving ability, be sure you have someone with you to take you home. Don't eat or drink anything after midnight the day before your appointment, and consult with both your physician and dentist about taking any prescription medication beforehand. Wear loose, comfortable clothing and don't wear contact lenses, oral appliances like dentures or retainers, watches or other jewelry.
Our top priority is safety — we follow strict standards and protocols regarding IV sedation and you'll be carefully monitored before, during and after your procedure. Performed with the utmost care, IV sedation could make your next dental procedure pleasant and uneventful, and impact your oral health for the better.
If you would like more information on IV and other forms of sedation, please contact us or schedule an appointment for a consultation.