Posts for: March, 2015
By Hockaday & Baucom, DDS
March 25, 2015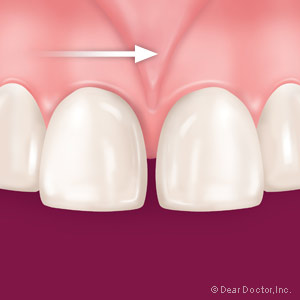 The various structures in your mouth — your teeth and gums, of course, as well as periodontal tissues that hold teeth in place within the jaw — all function together to create your smile. This includes muscles like the frenum, a fold of muscle tissue that connects the gums to the upper lip, which helps pull the lip upward when you smile.
Unfortunately, an overly large frenum could contribute to an unattractive space between your two upper front teeth. The problem occurs when the frenum grows beyond its normal range and runs between the front teeth to connect with the gums behind them at the forefront of the roof of your mouth. The resulting space that may develop can be closed with orthodontics, but unless the excess frenum tissue is addressed the space may eventually reopen.
The frenum is just one cause among many for a noticeably wide space, including bite problems (malocclusions), finger-sucking habits or missing teeth. We would, therefore, need to examine your mouth to determine the exact cause before beginning any treatment. If indeed the frenum is the source of the problem, it will be necessary to ultimately remove the excess portion through a procedure known as a frenectomy.
A frenectomy is a minor surgical procedure performed by a periodontist, oral surgeon or a general dentist with surgical training. After numbing the area with local anesthesia, the tissue behind the teeth is dissected or reduced in size with a small scalpel or a surgical laser. The wound is then closed with a few stitches; any post-surgical discomfort is usually minimal and managed with non-steroidal anti-inflammatory pain medication. The wound will completely heal within a few weeks.
Most frenectomies are performed after orthodontics to close the space. Removing it prior to tooth movement may result in scar tissue that prevents the space from closing. It's also easier for the surgeon to gauge how much tissue to remove after space closure to avoid removing too much, which can leave a "black" triangular hole where gum tissue should normally be.
Treating an abnormally large frenum isn't difficult, but it needs to be coordinated with orthodontic treatment for the best outcome. The end result is a smile that's both healthy and attractive.
If you would like more information on teeth spacing problems, please contact us or schedule an appointment for a consultation. You can also learn more about this topic by reading the Dear Doctor magazine article "Space between Front Teeth."
By Hockaday & Baucom, DDS
March 10, 2015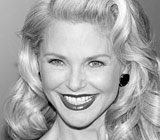 Fracturing back molars is an experience no one ever wants to have. But when a helicopter crashed during a back country ski trip, supermodel Christie Brinkley soon discovered that she had fractured two molars. Fortunately for Christie, her oral health was restored with two dental implants. As she said during an interview with Dear Doctor magazine, "I am grateful for the dental implant technology that feels and looks so natural."
While Christie's dental implants replaced back teeth, we routinely use them to replace both back and the more visible front teeth. But best of all, we have demonstrated expertise at making dental implant crowns look real. This is where we meld science and artistry.
What drives the most natural and beautiful result is how the crown (the visible, white portion of a tooth) actually emerges through the gum tissues. We also match the adjacent teeth identically in color, appearance, shape and profile. But we can't take all the credit, as it takes an entire "behind-the-scenes" team to produce dazzling results. Choice of materials, the laboratory technician (the person who actually handcrafts the tooth), the expertise we use in placing a dental implant crown and the total quality of care we provide are the ingredients necessary for success.
Another critical factor required is ensuring there is enough bone volume and gum tissue to support an implant. Both of these must also be in the right position to anchor an implant. However, if you do not have adequate bone volume, you may be a candidate for a minor surgical procedure to increase your bone volume through bone grafting or other regenerative surgical techniques.
To learn more about dental implants, continue reading the Dear Doctor magazine article "Matching Teeth & Implants." Or you can contact us today to schedule an appointment so that we can conduct a thorough examination, listen to your concerns, answer your questions and discuss treatment options. And if you want to read the entire feature article on Christie Brinkley, continue reading "The Secret Behind Christie Brinkley's Supermodel Smile."