Posts for: March, 2014
By Hockaday & Baucom, DDS
March 18, 2014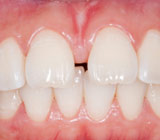 We all know Madonna, Seal, David Letterman, Anna Paquin and Michael Strahan (of the talk show Kelly and Michael). What do all of these celebrities have in common? Each has a "signature gap" between their front teeth. Given that they have been in the public eye for quite some time, it's not likely that these famous faces will choose to change their well-known smile. In fact, Michael Strahan has publically stated that he will never close his gap.
However, it is not uncommon for people to desire to fix a small gap in their teeth, particularly in advance of important events, such as weddings. Often times, fixing this small gap requires relatively simple orthodontic movements or tooth straightening. Since the teeth don't have to be moved very far, we can usually use simple appliances to correct the issue within a few months.
In order for us to determine your course of treatment, you'll need to make an appointment with our office for a thorough examination. When we examine you, we'll be looking for a number of items that will affect our treatment recommendation:
Is there enough room to close the space without creating other bite problems?
Are the roots of the teeth in reasonably good position to allow for minor tooth movement to close the space? X-rays will be required to make a proper assessment.
Is there an involuntary tongue habit that has pushed the teeth forward and created the gap? If so, this could be difficult to fix quickly.
Are the surrounding gum tissues and bone healthy?
Based on our assessment and your individual needs, we may recommend one of the following options:
Clear retainers, a computer-generated series of clear retainers customized for your bite to move the teeth
Removable orthodontic retainers to which we will attach small springs or elastics to facilitate the minor tooth movement
Traditional fixed orthodontic appliances (most commonly known as braces), small metal or clear brackets bonded to your teeth through which tiny wires are used to move the teeth
Regardless of the method we choose, once your teeth have moved into the new position, it is important for you to remember that they must be kept in this position until the bone stabilizes around the teeth. We may therefore advise you to wear a retainer for a few months to a few years, depending on your situation.
If you would like more information about orthodontic treatments, please contact us or schedule an appointment for a consultation. You can also learn more by reading the Dear Doctor magazine article "Minor Tooth Movement."
By Hockaday & Baucom, DDS
March 03, 2014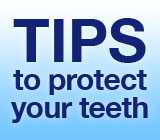 Teeth are composed of layers of different types of tissue. The main inner layers — the pulp and dentin — help the teeth respond and adapt to external forces. But they're vulnerable to decay and quite sensitive to environmental extremes. They are protected from all these by a coating of enamel, made of the hardest material found in the human body.
But while enamel is strong, it's not invincible — it can soften and dissolve (de-mineralize) if the mouth environment becomes too acidic. While de-mineralization occurs normally whenever the mouth becomes too acidic after eating or drinking, saliva helps neutralize the acid (buffering); in fact, saliva can restore to the enamel some of the calcium and other minerals it has lost (a process called re-mineralization).
If the acidic level remains too high for too long it can overwhelm saliva's buffering ability and cause permanent mineral loss to the enamel. This erosion leaves teeth more susceptible to decay and disease and could lead to tooth loss. With this in mind, here's some ways you can help preserve your enamel:
Wait about thirty to sixty minutes after eating or drinking to brush your teeth. Counterintuitive as this may sound, it takes about thirty minutes for saliva to restore a normal pH level and re-mineralize the enamel. If you brush within this window of time, you could brush away some of the softened minerals from the enamel.
Only brush twice a day. Over-brushing causes undue enamel wear, as well as contributing to receding gums.
Take advantage of less acidic or mineral-rich beverages. Drink milk or water most of the time, rather than juices, sodas or sports drinks. The calcium in milk or as an additive to acidic beverages aids in buffering and re-mineralization.
Use a straw for acidic beverages. With a straw your teeth avoid direct contact with most of the beverage's acid, a key factor in de-mineralization.
Avoid eating just before bed. Saliva flow decreases significantly when we sleep. If you eat right before bed, there may be less saliva available for buffering and re-mineralization.
Following these tips, along with effective oral hygiene, will go a long way in protecting your teeth's enamel coating — and preserving your teeth in the long run.
If you would like more information on enamel erosion and how to prevent it, please contact us or schedule an appointment for a consultation. You can also learn more about this topic by reading the Dear Doctor magazine article "6 Tips to Help Prevent the Erosion of Tooth Enamel."